Eco Tourism
ECO-TOURISM SITES IN NFA
The National Forestry Authority was founded in April 2004 under the National Forestry and Tree Planting Act. The prime mission of the Authority is to manage Central Forest Reserves on a sustainable basis and to supply high quality forestry products and services.
The National Forestry Authority has got conservation and commercial concepts in the management of Central Forest Reserves. NFA with the private sector have developed ecotourism sites considerable for tourism attraction and conservation.
Forest-based Tourism is therefore one of the activities that the Authority views as a key contributor to its revenue generation as well as building and enhancing partnerships with the private sector, Non-Government Organisations and local communities. Ecotourism is also expected to improve on the Authority's public image both internationally and locally.
In the public eye, forest reserves are associated with consumptive forms of land use especially timber logging. However, there are a number of Central Forest Reserves that undoubtedly have features and attractions that are of real interest to domestic and international tourists on a sustainable basis.
Mabira Central Forest Reserve
Mabira Central Forest Reserve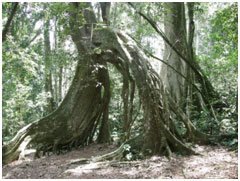 Area coverage:Mabira Central Forest Reserve is one of Uganda's largest surviving Natural Forests covering an area of 306 sq km.
Attractions:Mabira has Natural Habitat of 312 species of trees, home of 315 species of Birds, 218 Butterfly Species, 97 Moth Species, 23 Small Mammal Species,
Activities: they include Forest Walks with over 68 km of well-developed trail length, Mountain Biking, Bird Watching, Environmental Education and Research, Camping and Picnics, Primate Watching, Butterfly Identification and general Forest Exploration.
Accommodation
Mabira boosts of 3 Bandas which can accommodate a maximum of 10 Guests at the Eco – Tourism Site near Najjembe Trading Centre. The Bandas are self – catering although some light meals can be prepared for you by the House keeper. There is also a Camping Ground near the Site for do-it-yourself caravans at a modest fee. Mabira Forest Lodge, a modern eco – friendly facility by the Alam Group of Companies is nearing completion.
Accessibility
Mabira Central Forest Reserve is located on the main Kampala – Jinja Highway in Mukono District. It is 54 km from the City Centre of Kampala and 26 km from Jinja Town. The Eco – Tourism Site is about half a kilometer from the road head along a short dirt road off the Najjembe trading center. The Forest is therefore accessible by all vehicles throughout the year.