Kalinzu Central Forest Reserve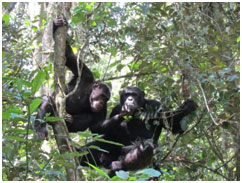 Attractions:The Forest is famous for 414 Species of trees, it harbours 378 Species of Birds, six different Species of Primates, Blue Monkeys, Vervet Monkeys, Black and White Colobus Monkeys and Chimpanzees, 262 Butterflies, 97 Moths, Reptiles and Flowers
Activities: they Forest Walks, Research, Conservation Education, Birding, Butterfly Identification, Chimp Tracking, and small Mammal viewing.
Area coverage:147 sq. km. adjacent to the famed Queen Elizabeth National Park and the Maramagambo Forest. It lies at an average altitude of 1,400 m above sea level
Accommodation in the Reserve is still informal with only a do-it- yourself Camping Site at the Forest Station at Nkombe. Visitors are advised to carry their own Tents. Visitors can also seek modest accommodation in Bushenyi/Ishaka Townships.
For Reservations, please contact the Sector Manager on Tel: 256-41-0772568168
Accessibility
The Forest Reserve is located in Bushenyi District in western Uganda. It is approximately 375 km. (five hours drive) from the Capital City of Kampala.