Kasyoha – Kitomi Central Forest Reserve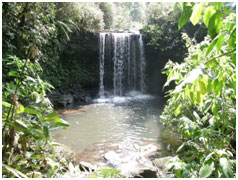 Area coverage:Kasyohakitomi Central Forest Reserve is 433 sq. km.
Attractions: they include Primates such as Chimpazees, Blue Monkeys, Red – Tailed Monkeys, Black and White Colobus Monkeys, Vervet Monkeys and Baboons, spectacular Crater Lakes, Transparent Lakes, and small mammals, waterfalls, Deep Gorges, Birdlife, Butterflies and Moths, Reptiles and Flowers.
Activities:Forest Walks, Canoeing, Bird Watching, Sightseeing, Conservation Education, Camping and Community Walks. A three - hour Walking Trail has been developed from the Camping Site at Magambo to the transparent Lake Kamunzuku.
Accommodation:Camping Site at Magambo Parish Headquarters overlooking the amazing Twin Lakes. Please bring your own Tents and Camping Gear. A four – wheel drive vehicle is a must.
For Reservations, please contact the Sector Manager on Tel: 256-41-0772568168